July 2010 Roster
Back to Current Roster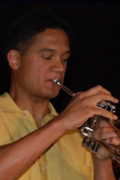 Miles Evans was born in 1965 to Gil and Anita Evans. He was named after his father's musical partner, Miles Davis. As a teenager, he started playing his namesakes instrument. He began playing professionally at 17. When Gil Evans passed away in 1988, Miles assumed leadership of the Gil Evans Orchestra. He has served as bandleader, arranger and lead trumpet player of the orchestra ever since. His credits include Gil Evans Orchestra, Miles Davis, Quincy Jones, Jaco Pastorius, and Sting.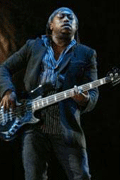 Darryl Jones was born and raised in Chicago. In his early career he played with Miles Davis and the Gil Evans Orchestra. He is highly regarded for his stylish bass-playing in jazz, blues, and rock music. He is most well known for playing with The Rolling Stones, of which he has been an unofficial member for more than fifteen years. He has played with many other bands, including Sting, Eric Clapton, Madonna and Peter Gabriel.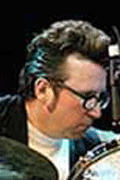 Bernie Dresel took his first drum lessons at the age of four, eventually studying at the Eastman School of Music. He one the most sought-after session players in the Los Angeles music scene. Bernie has also recorded and played with Maynard Ferguson, Ringo Starr, David Byrne, Chaka Khan, Van Dyke Parks, Brian Wilson, Brian Setzer Orchestra, and Keiko Matsui.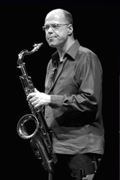 Bob Sheppard received a Masters degree from the Eastman School of Music. Since then he has established himself as one of the most highly respected and well known improvising artists on the music scene today. His success includes countless album recordings as well as over 100 television and movie soundtracks. He has played and recorded with Chick Corea, Joni Mitchell, Steely Dan, Freddie Hubbard, Randy Newman and Horace Silver.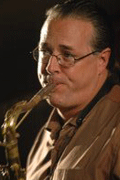 Doug Webb was raised in Southern California and started playing the clarinet at the age of eight. He studied at Berklee College of Music in Boston. His resume includes Rod Stewart, Carly Simon, Bonnie Raitt, Quincy Jones and Kyle Eastwood. His solos can be heard on the sound track for Mystic River and Million Dollar Baby. He has played on over 150 jazz recordings.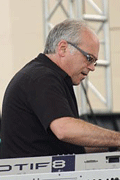 Mitch Forman has playing piano and keyboards since the age of seven. His credentials include solo performances, internationally, as well as being a member of the John McLaughlin's Mahavishnu Orchestra. Mitch has also played with Stan Getz, Rickie Lee Jones and Pat Metheny.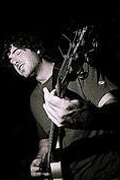 Mike Blumberg is a session guitarist/composer/producer based in Los Angeles, CA. He has performed on both coasts with Revolutionary Side Effects, as a solo artist and with The Hank. Blumberg has also co-composed/produced several pieces of music for major motion picture and network television promos.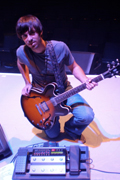 Andrew Synowiec picked up the guitar at eight years old and hasn't put it down since. In high school he discovered Jazz and began practicing obsessively. He attended the University of Miami on a scholarship and performed with the school's prestigious Concert Jazz Band. With the CJB, he performed with Jazz greats Vince Mendoza, Bob Mintzer, Liebman, James Moody, Bob Berg, Jim McNeely, and recorded Maria Schneider's Grammy-Nominated Three Romances.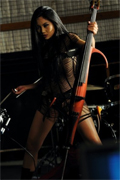 Tina Guo is a 24 year old classical cellist and multi-genre electric cellist who has appeared internationally as a soloist with many orchestras. Tina performed at the Grammy Awards with the Foo Fighters, at the MTV Movie Awards, on American Idol, and with Brazilian guitarist Victor Biglione in a Jimi Hendrix Tribute Concert at the Copacabana Palace in Rio de Janiero.